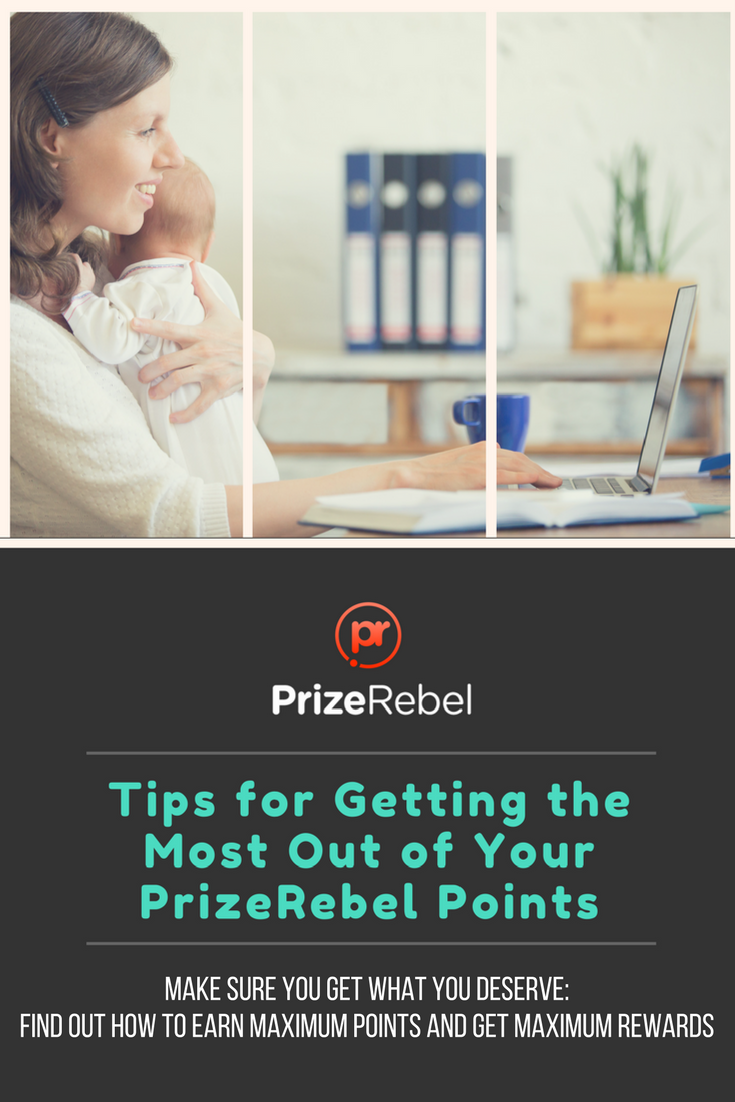 Tips for Getting the Most Out of Your PrizeRebel Points
Posted on July 01, 2016 by PrizeRebel
Share this article via
Tips for Getting the Most Out of Your PrizeRebel Points
Found a reward you like? Start wth Prizerebel and redeem for your favorite reward!
What's the point in spending time earning points on PrizeRebel if you never get around to redeeming them?
If you're spending hours on PrizeRebel completing surveys and watching videos to rack up points, the last thing you want to do is have them sit in your account when you could be checking them out and earning gift cards or cash.
Thankfully, redeeming your PrizeRebel points is quick and straightforward, and takes hardly any time.
In this post we'll show you exactly how to redeem your points for maximum rewards (as well as a few ways to earn extra points), so that you can make sure you get what you deserve.
How to Redeem You Points
The process of redeeming your PrizeRebel points is very simple. All you need to do is take surveys or watch videos until you have enough points to qualify for a reward. The lowest prizes start at 500 points, and this can get you a $5 Amazon voucher or $5 in Bitcoin.
Once you have enough points in your account to qualify you for the type of reward you would like, you need to click on the rewards tab at the top of the screen.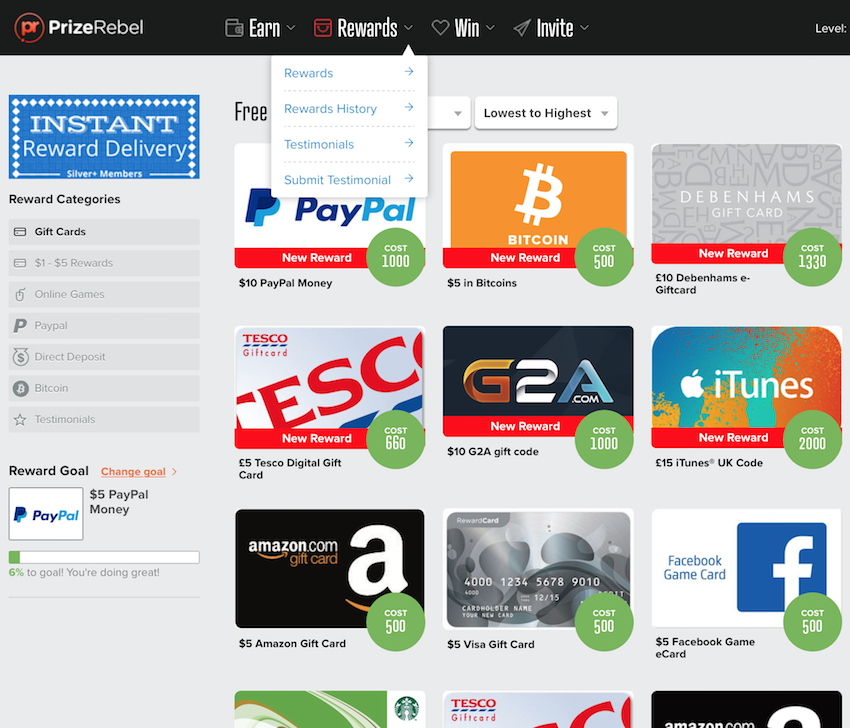 From there, scroll down through all of the various rewards until you find the one you are looking for.
Click on the reward you are looking to redeem so that you are taken straight through to the reward info page.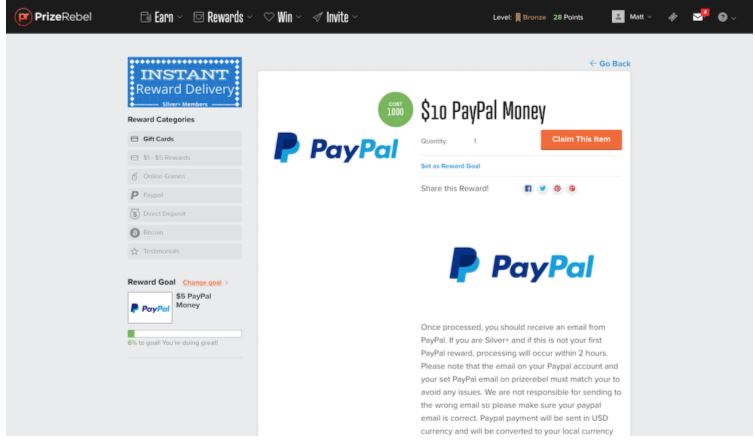 Look over the information to understand more about when you will receive credit of the reward as the policy for rewards can change depending on the type of reward it is. You will also find instructions on how to claim your prize! For example, PayPal rewards state that:
"Once processed, you should receive an email from PayPal. If you are Silver+ and if this is not your first PayPal reward, processing will occur within 2 hours. Please note that the email on your Paypal account and your set PayPal email on prizerebel must match your to avoid any issues."
Whereas the reward info for Amazon vouchers reads:
"Amazon.com Gift Cards* never expire and can be redeemed towards millions of items at www.amazon.com, www.myhabit.com, and certain of its affiliated websites"
Be sure to read all of the information carefully so that you get your reward on time, and so that you don't come up against any difficulties.
Once you are sure that the information is clear, and that the reward you've picked is the one you want to redeem, click the 'Claim This Item' button. Remember, once a prize has been processed, it can not be canceled or exchanged.
What is the Redemption Process?
Once you have claimed your reward, you start the redemption process and your reward is processed in the system. If you are a Silver+ member of PrizeRebel, your reward will be processed incredibly quickly, and will usually take only a few hours or less. If you are a bronze member, your prize won't be processed automatically, and it will usually take 24 hours.
The exceptions to this rule are for your first Bitcoin, direct bank deposit, and PayPal withdrawals: all of these prizes will take 24-hours for your first time, as they need to be checked manually to make sure that your account details match and comply with PrizeRebel's terms and conditions. Please make sure that your details are updated on your account profile under Paypal email. We often have members ask us where their prize is being sent to when they don't remember the paypal email they put.
Because PrizeRebel has a really low minimum withdrawal amount of only $5, you can redeem prizes every single day and be sure that you don't have to wait until you've racked up tons of points before you can turn them into prizes.
Once in a while, you will find that your prize is pending and you are a silver+ member. We want to make sure that your prize is delivered to you as soon as possible! In order to guarentee the safety of our users' accounts, we sometimes conduct random account security checks on accounts to make sure their account has not been compromised. It's way better to be able to get your prize within 24 hours than to login and find out all your points have been redeemed.
How to Make the Most of Your Points
Spending time on PrizeRebel is great as it lets you turn your spare hours into cash and rewards, but there are always ways to make your time on PrizeRebel even better.
As you use PrizeRebel, you'll notice regular offers, competitions, discounts, and raffles that help you make your points go further and help you to win prizes more regularly.
Discounts - are where gift cards and rewards go on sale so that they require less points than usual to redeem: this means that you can get great rewards faster than usual. We usually will release news on this on social media or you can just check the prizes page and we'll have it marked as well!
Contests - PrizeRebel offers regular contests across a wide variety of categories, from offers contests to referrals contests. People across PrizeRebel compete to earn the highest number of points inside each contest category, and then the top 20 people are rewarded with a bonus number of points ranging from 1000 to 250 that they can put towards new rewards. Stack some additional earnings from placing in a contest and you'll be smiling at the sweet bonus you just received.
Events - PrizeRebel also holds regular events that let you earn more points. An example of the type of events on offer is '10% more on offer walls' which is currently running throughout July. We dedicate ourselves to making sure our members are happy by hosting special events to help you earn more!
Daily Challenges - Each day, PrizeRebel offers you the chance to take part in a challenge that rewards you with bonus points once you've met the criteria. This is a great way to earn extra points just by doing something that you already do when you're on PrizeRebel. Make sure you claim the Daily Challenge once you reach each goal!
Raffle - You can also take part in regular raffles that allow you to win a whole host of prizes: from Starbucks gift cards to Google Play credit. Sometimes you can snag the right prize for cheaper than reedemption just by trying your luck.
Special Bonus - PrizeRebel also rewards you with special bonus points once you've reached certain account levels. This allows you to earn extra points for every survey or video you complete, right up to an extra 5% for every task you complete. This is essential to earning more points on top of points! You want to get your level to a higher tier to enjoy all the perks of using Prizerebel fully.
Using Referrals to Earn Points
A really simple way to earn free points is to take advantage of PrizeRebel's referral system that allows you to earn points for every friend or family member that you get to sign up to PrizeRebel.
For every friend or family member you invite, you earn a 20% bonus based on all of the points they earn. That means that you not only help your friends and family out by introducing them to a new way to make money in their spare time, but you also help yourself out by increasing the number of points you can earn - it's a win-win!
You can also earn referral points by sharing PrizeRebel with people across your social networks, writing about PrizeRebel on your blog or website, and making YouTube videos about PrizeRebel.
You can find our guide to get you started here on how to refer users.
Are You Ready to Start Redeeming Your Points?
By now you should have a great understanding of just how you can redeem your points on PrizeRebel, feel free to take a look at some of our popular rewards such as Paypal Cash and Xbox live gift card
So what are you waiting for?
Get started and join here to get your favorite gift cards!