Ultimate PrizeRebel Review: Why Its Worth Your Time Spent
Posted on October 09, 2017 by PrizeRebel
Share this article via
PrizeRebel Review - A breakdown of how to make money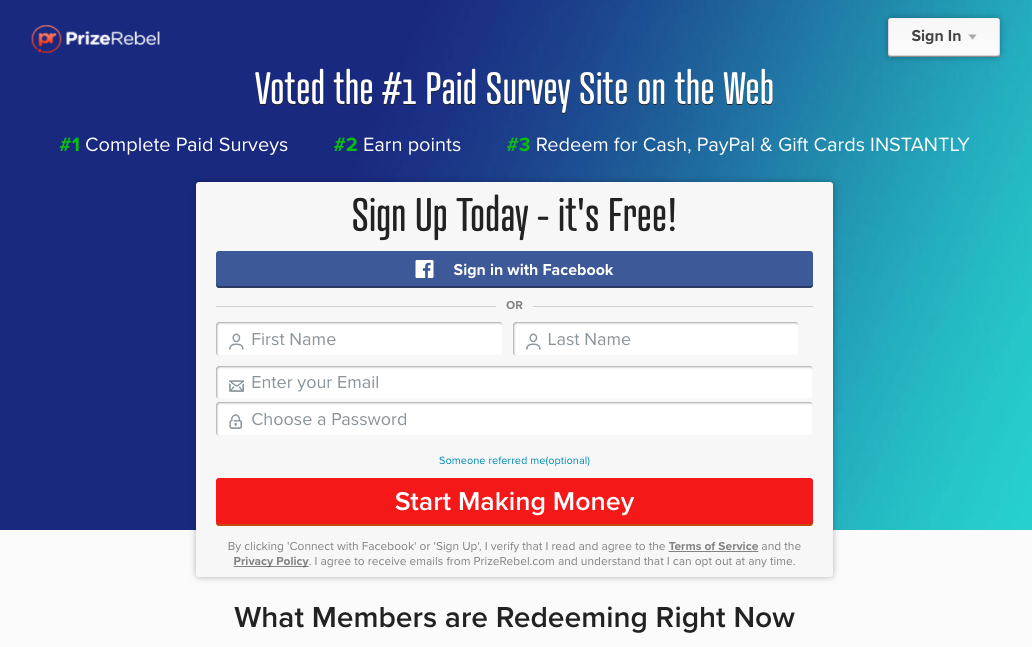 PrizeRebel is the leading paid surveys site on the Internet, and for good reason. If you are looking for a consistent and fun way to make money online, then I have only one question for you: Why don't you have an account yet? Sign up here!
I'm sure you have a few questions in return, so let's get those answered. Then, you can get started earning cash and gift card rewards by signing up!
How do I earn points on PrizeRebel?
There are several ways to earn points on PrizeRebel. The backbone of the website is paid surveys. The idea is simple: fill out a market research survey, get credited and earn points instantly! Of course, you must do this honestly, as false information will not be credited by the survey provider. Once you have filled out your profile, we work together with the survey provider to find paid surveys that match up well with your demographic.
You will see the broad topic of the survey and an estimation of how long it will take to complete. Once you've selected the survey you want to take, get started and answer the questions thoroughly and honestly. After you're finished, you'll have points credited to you right away! Surveys are the best way to earn points quickly and can easily be completed on the side while watching TV or listening to a podcast.
Various other small tasks can earn you points. PrizeRebel has several offer wall partners from which you can complete simple 2 to 3 step offers for points. Remember to keep a close eye on PrizeRebel social media, as well, as you may find special promo codes or the opportunity to join contests for gift cards and Amazon wishlist items (these contests occur on a weekly/monthly basis).
You can also earn points by watching videos or visiting websites and completing tasks. EngageMe Videos will reward you with points for watching movie reviews or watching viral videos. Completing offers is a great way to earn points very quickly and videos offer a passive way for members to consistently earn over time. Other tasks include visiting a company's website and returning to the PrizeRebel's task section to give feedback on the performance of the website. Tasks are a great way to do some research and earn points!
We also provide many site-wide bonuses, including monthly discounts on rewards and special global site challenges that offer bonus points based on your completed activity. Site bonus events are a great time to double your earning activity as you can earn double or triple the points you could usually earn!
If you have some friends who are interested in earning money online, you can also earn points from referrals to the website. At the ground level, you'll earn 20% of everything they do—and that will increase as you reach higher levels. This makes referrals a great way to earn rewards passively if you educate your referrals on how to earn successfully! One great way to get referrals is to create your own PrizeRebel review on a website or a blog to explain the perks and benefits of using the site and how to complete surveys efficiently your way.
What can I do with my PrizeRebel points?
Many members redeem their PrizeRebel points for gift cards. From Amazon to Burger King, there is always something exciting to cash in those PrizeRebel points for. Another hot reward is our direct cash options! You can set up a direct deposit account easily and redeem your points for cash or send it to your Paypal account. You can also use your points to enter raffles, or a lucky jackpot, for the chance at bigger rewards. Check out our testimonial page to see PrizeRebel reviews on some of the amazing swag members have received over the years!
What will PrizeRebel do with my personal information?
The sole purpose of asking for your personal information is to match you with the best-suited surveys for your demographic & location. We will never sell your information.
Wrapping It Up
You've read the PrizeRebel review and got all the perks noted. Now it's time to act! Over 7.2 million members are taking surveys for cash on PrizeRebel! Don't wait another minute to put PrizeRebel to work for you. Sign up here and start earning money instantly!