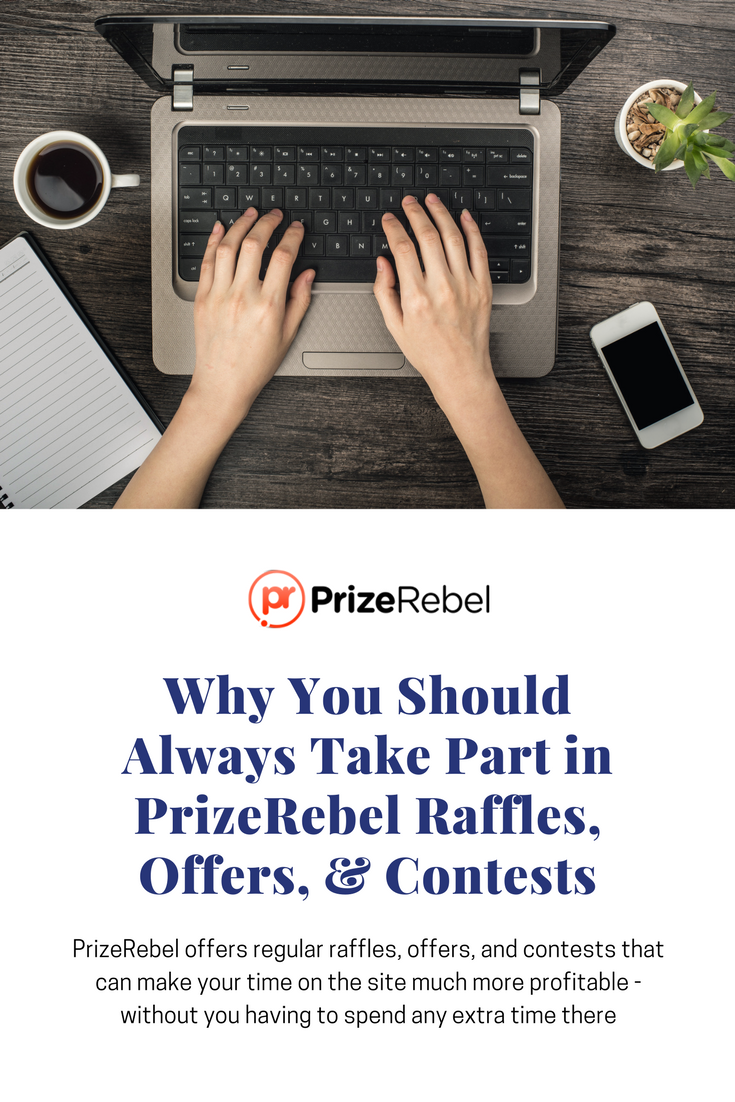 Why You Should Always Take Part in PrizeRebel Raffles, Offers, and Contests
Posted on July 09, 2016 by PrizeRebel
Share this article via
Why You Should Always Take Part in PrizeRebel Raffles, Offers, and Contests
Take advantage of our raffles and contests by signing up here!
So you've been using PrizeRebel, but you haven't been making the most of all of the ways to earn points and rewards?
This can be frustrating.
Think about it… You're spending time at your computer, making sure to use your free hours as wisely as possible, but you aren't getting as much out of it as you could be.
If this situation sounds familiar, you need to recognise that you're leaving points and money on the table.
So what can you do to put this right?
It's actually quite easy: PrizeRebel offers regular raffles, offers, and contests that can make your time on the site much more profitable - without you having to spend any extra time there!
How Does This Work?
As well as offering you tons of surveys to complete and videos to watch, PrizeRebel also offers you the chance to take part in extra activities that allow you to earn huge numbers of points.
To help you understand each extra a bit better, here's a list of what they do:
Raffles
PrizeRebel raffles allow you to enter a draw to win free gift cards to use at a whole range of stores. Current prizes include gift cards from Hulu, Starbucks, and Best Buy, as well as a free $10 Visa gift card.
All you need to do to enter is click the 'enter raffle' button, and confirm how many tickets you would like. Each ticket costs 10 points, and you can get 1 ticket or 1,000! PrizeRebel holds raffles regularly, so there's always a chance to take part.
Contests
PrizeRebel also offers you the chance to take part in regular contests where you compete against other users on the site.
These contests give you a challenge where you have to compete to do the most tasks, finish the most surveys, or refer the most people.
The top 20 people at the end of each challenge period are then rewarded with a huge number of points - the person who completes the most surveys earns a crazy 1,000 points (enough for $10 in PayPal money!).
All you need to do to enter the contest is click on the 'Win' section, then on 'Contests', and finally click the button under the contest you'd like to enter.
Why You Should Make the Most of These Extras
It's clear that these extras are pretty rewarding, but should you really be taking part in them all the time?
Absolutely.
These extras let you take advantage of things you already do on PrizeRebel, and give you the chance to earn even more points than normal.
That means that you'll be able to earn more gift cards, and more money - just by doing the things you're already doing right now. If you don't take advantage of these extras, you're leaving points, gift cards, and rewards on the table for everyone else to get…
You don't want that, do you?
Of course you don't! So start making the most of these extras right now.
Earn Tons of Points With Referrals
Want another way to earn even more points?
PrizeRebel gives you the chance to earn huge numbers of points for doing something really special…
When you invite your friends and family to join PrizeRebel and make the most of the spare hours they have each day, PrizeRebel rewards you with a 20% points bonus on the points they earn and you can earn up to 25% or 30% depending on your level.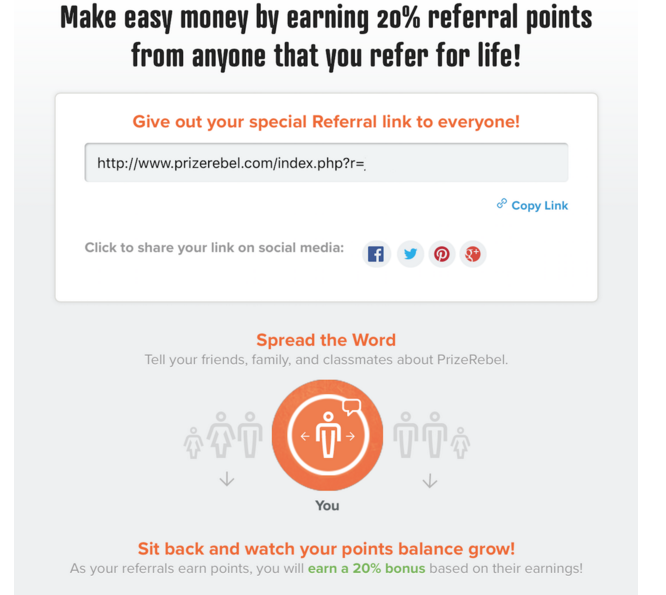 That means that for every 1,000 points that your friends and family earn on PrizeRebel, you earn 200, just for sharing the platform with them!
This means that you can sit back and watch your points balance grow, without you having to lift a finger.
Sounds great, right?
To refer your friends and family, head to the 'Invite' section on PrizeRebel.
Bonus Hint - to earn an even greater number of points on PrizeRebel, share your referral link on social media, on your blog, and on YouTube. The more people who see your link and sign up, the more points you'll get!
Are You Ready to Earn Extra Points?
By now, you'll have realised that you've been leaving points and prizes on the table this whole time.
But thankfully, it's never too late to start earning more, so log in to your PrizeRebel account and start making the most of these incredible extras.