How to get Free Game rewards in 2021!
Posted on March 03, 2021 by PrizeRebel
Share this article via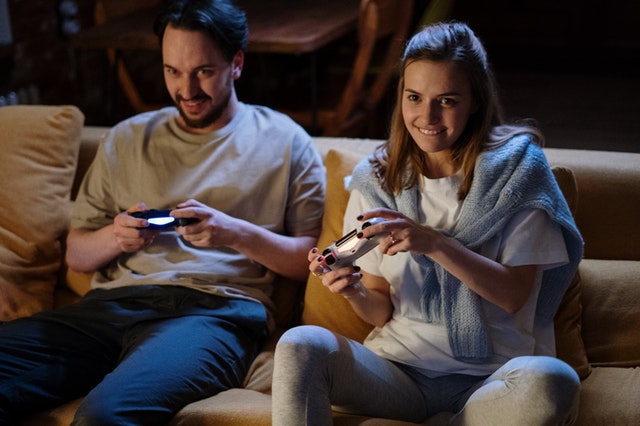 Does hearing about the latest gaming news bring a rush of excitement and euphoria? But right after, do you get hit with a sense of dread and sadness afterward? That dreadful feeling of having to save up another SIXTY DOLLARS just to purchase the next game at launch again. What if there was an easier way to get all these games and for free? PrizeRebel.com has just the solution for all your gaming needs. Whether PlayStation, Xbox, Nintendo, Steam Games, or even Apps through Google Play or Itunes gift card , PrizeRebel has your back with free game gift cards!
PrizeRebel.com is a reward website where you can earn free gift cards by completing surveys and offers. Upon each completion, you will earn points which you can use to redeem for 100's of name-brand gift cards such as Amazon, Walmart, and eBay. With PrizeRebel, not only can you get free gift cards to all the major store brands, but you can also get free gift cards to all major gaming providers such as Microsoft Store for Xbox, the PlayStation Store, Steam, League of Legends, Battle.net, and many many more.
So what's the catch, it's too good to be true? Do I need to sell my soul?

Absolutely not, there are no catches on PrizeRebel. Market Researchers are constantly looking for opinions on their products to improve and better market to their consumers. By providing your opinion to these surveys, you earn points that can be used to fund your gaming habits. Your opinions help shape the product that you use daily. Similarly, Offerwall's are constantly looking for new users and members to try their product from unique services such as Ollie Dog Food Plan, a subscription to The New Yorker, or trying out a mobile game app such as World Series of Poker. Offerwall's are willing to pay you to try their apps out. With points earned from both of these methods, you can be accumulating those free juicy gaming gift cards. The only question now is what are you planning to get with this newfound gold mine.


Need some help to get back into the loop on the next major game release? Did you miss out on the latest announcement from E3, Nintendo Direct, or from your favorite game developer? Have no fret, here are some soon-to-be hits coming out in 2021.

Highly Anticipated Nintendo Switch Games
With the recent release of Super Mario 3D World + Bowser's Fury, what else can we expect from Nintendo? While we have seen slow releases of games for the Nintendo Switch over the years, 2021 and 2022 is an exciting year for Nintendo, especially if you are a fan of Pokémon and Zelda. In late 2021, Pokémon Shining Pearl and Brilliant Diamond are planned for release. Not only that, an open-world RPG Pokémon game, Pokémon Legends: Arceus, will be coming out in early 2022. Along with the announcement of The Legend of Zelda: Breath of the Wild 2 being in development can only get the heart racing so much. Start saving up for these awesome titles by grabbing some $10 Nintendo eShop Gift cards with PrizeRebel.com.
For the Game Lovers

Whether you stan for the PlayStation 5, XBOX Series X, or PC Gaming, developers have some amazing AAA titles planned for release this year on all gaming platforms! From the creators of the critically acclaimed Left 4 Dead franchise, Back 4 Blood is set in a similar style and tone. You and your friends are on a campaign fighting against hordes of zombies each with unique customization to your characters. Looking for another cooperative 3rd person RPG shooter with full cross-play? Outriders developed by People Can Fly and Square Enix is the game for you. Select your role, customize your characters and get ready to work with your teammates to take down your enemies.Not your game style? How about Balan Wonderworld. An action-platformer game themed around a musical theatre. You will explore the bizarre and imaginary land of Wonderworld while using special abilities from a horde of unique characters you can play as.

PlayStation Exclusives:

Now for those epic platform exclusives that make your gaming console choice special. PlayStation has a few title exclusive that makes your blood pulsing from excitement. Noted as the greatest role-playing turn-based game, Final Fantasy VII is being remade. FINAL FANTASY VII REMAKE INTERGRADE will bring back the hit classic with an enhanced graphic and gameplay while expanding on the original game storyline. God of War: Ragnarok, planned for release this year is another exclusive that should get your blood pumping. Ragnarok is a sequel to God of War and continues the storyline in Norse Mythology. With the $20 PlayStation store gift card, no need to spend money on games anymore. When these titles release, just use the gift card you've earned from PrizeRebel.

Xbox Exclusives:

With those exclusive from PlayStation, it's hard to compete but Xbox somehow has managed to do so. With both Halo Infinite and CrossfireX, Xbox is throwing haymakers back at PlayStation. CrossfireX is a first-person shooter with multiple multiplayer modes. The most played PC game in the world is coming exclusively to Xbox. Halo Infinite continues to expand the Halo universe while also bringing the most expansive Master Chief campaign yet. Not only will you be able to play the single-player campaign, but the multiple-player portion has also been announced as free-to-play. Get the Mjolnir helmet ready for this exciting continuation in the Halo Universe with the $25 Xbox Live Gift Card.

PC Gaming Exclusives:

For all the PC gamers out there, here are some exclusives just for you! Amazon Game Studios have been developing New World since 2018. New World is an MMORPG set to be released in August. Set in the 1600's America, players will pick factions and explore this open-world completing quests, fighting monsters, and interacting with other players. MMORPG, not your style, how about the highly anticipated real-time strategy game, Age of Empires 4. While exploring history, create epic battles through the campaign and fight against other players in this continuation to the Age of Empires series. You can find these future games on Steam. Purchase them using the $20 Steam Wallet gift card or G2A gift card available on PrizeRebel.
Not only can you find gift cards to use on the latest games, but you can also find gift cards for cosmetic and in-game currency. PrizeRebel.com offers gift cards to some of your most popular games like League of Legends, Roblox, and Blizzard Battle Net. Grab the cosmetics you've been eyeing and show off your skills and style using the free gift cards you've received on PrizeRebel. Sign up today on PrizeRebel.com and start getting free apple gift cards or Fortnite Vbucks!