What is the difference between PrizeRebel and Swagbucks?
Posted on June 22, 2016 by PrizeRebel
Share this article via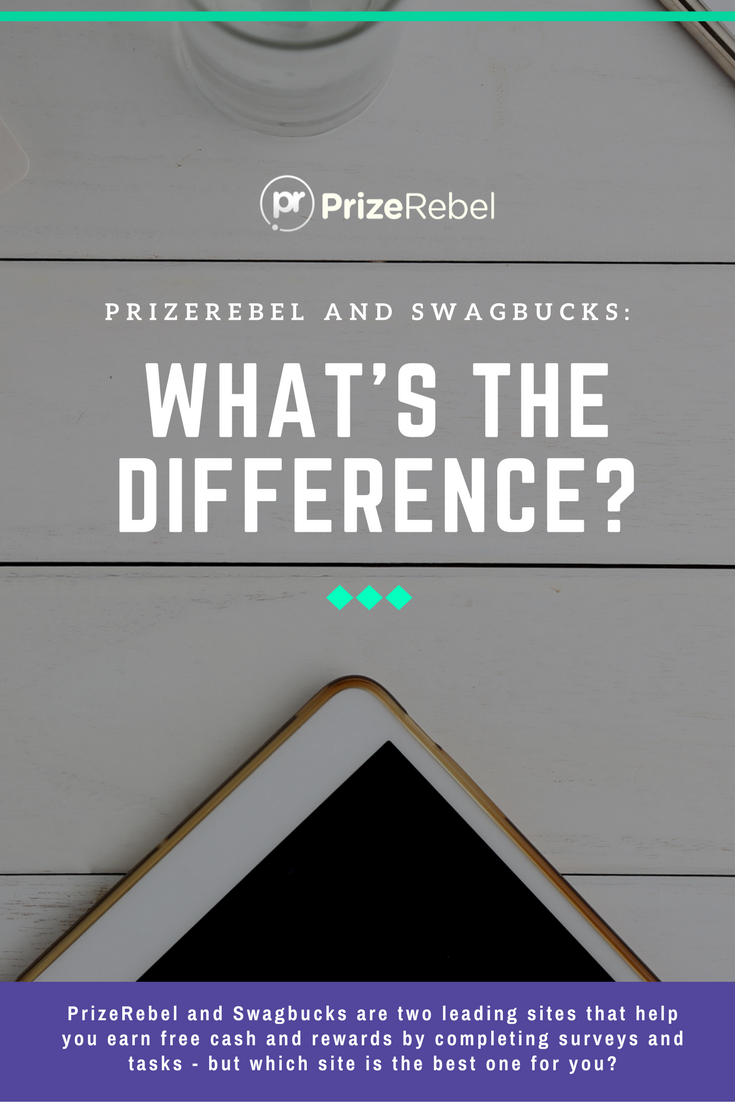 PrizeRebel and Swagbucks are two leading sites that help you earn free cash and rewards by completing surveys and tasks - but which site is the best one for you?
Sign up for

the best rewards site on the web now!
There's a situation all of us can agree we've experienced: getting a week or two into the month and discovering that we don't have enough cash to last until payday.
Sometimes, no matter how many hours you work, or how much you try, you can find it difficult to earn enough money to be able to buy the things you need for you or your family. What's more, if you're working full time, or in an area without lots of job opportunities, it can be really difficult to find work that will help give you that little bit extra you need for rent or bills.
Thankfully, there are ways you can turn the spare hours you have each day, when you're usually sat in front of the TV or on your phone, into money-making opportunities.
PrizeRebel and Swagbucks are two leading websites that let you earn free cash and gift cards by completing surveys and tasks. These sites let you put your spare hours to good use, and can help you make up gaps in your budget each month by offering you a chance to earn extra outside of your work.
Both of these sites have millions of users across the world, have paid out millions of dollars in cash and rewards, and are used by people of all different ages to turn their spare time into money that they can use for the things that matter in their lives.
But with both of these sites offering similar services, it can be difficult to know which one is right for you.
Thankfully, we've broken down the differences between the two to help you understand which site is the one you should spend your time on -
1. PrizeRebel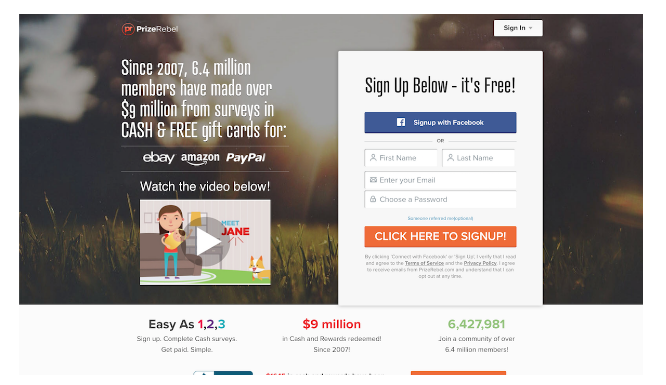 PrizeRebel is the leading survey site on the internet, with over 6.4 million members and over $9 million in cash and reward payouts.
The site was started in 2007, and was designed to help people turn their spare hours into money by giving people the opportunity to use their knowledge, experience, and opinions to answer surveys.
Every survey you answer awards you a set number of points that you can then redeem against prizes, cash, or gift cards. PrizeRebel offers everything from $2 Amazon gift cards, to $500 in PayPal credit, so you will never be stuck looking for the right reward for you.
Unlike other sites, PrizeRebel has a really low minimum cash-out level of $5 - this is much smaller than competitors, which often require you to earn between $10-50 before you can claim your money. This means that if you only need to earn small amounts of money, or want to be able to withdraw your money each day, you don't have to spend hours and hours making sure that you meet high minimum withdrawal amounts.
PrizeRebel also offers instant crediting of prizes for silver members+, or 24-hour credit for bronze members. This means that you can be sure that the prizes and rewards you earn reach your account quickly. PrizeRebel is a leader in this feature, as other sites like Swagbucks can take up to one week to credit your prize.
Who does PrizeRebel suit best?
PrizeRebel is great for people looking to put their time and opinions to better use, and who are looking to earn free cash quickly and easily so that they can pay for the things that matter to them. The site doesn't require you to jump through hoops to earn points, and the low cash-out amounts and quick crediting times mean that you can get small amounts of money almost instantly.
Sounds good? Join us at PrizeRebel now!
2. Swagbucks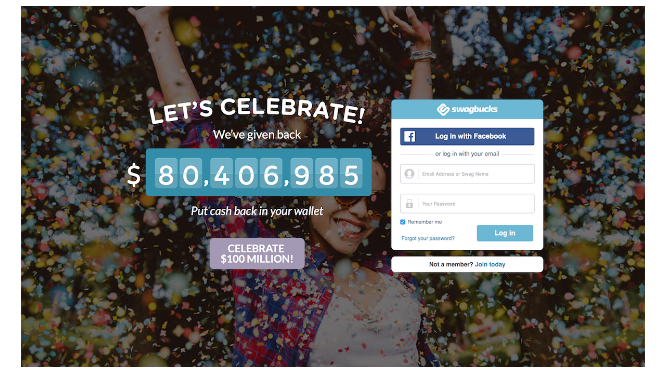 Swagbucks is a leading site that helps you 'put cash back in your wallet'. It's paid out over $80 million dollars to millions of members around the world, and has helped people earn cash back from their regular purchases, as well as earn extra money by watching videos, answering surveys, and searching the web.
Swagbucks offers members a range of different ways to earn rewards, points, and cash, and is slightly different from PrizeRebel.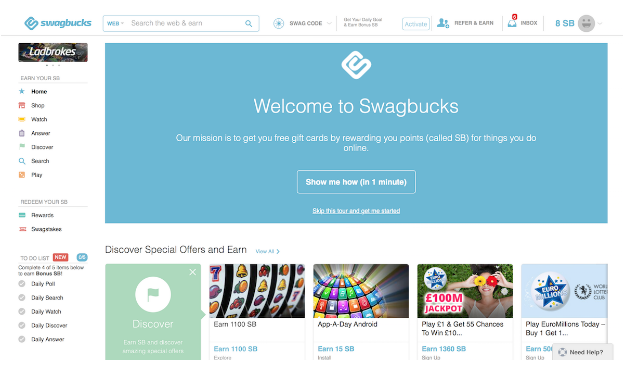 Swagbucks is most different in that it gives you the chance to watch short video advertisements and play online games that let you earn points and prizes, as well as offering you the chance to earn points just by searching the web in your usual way.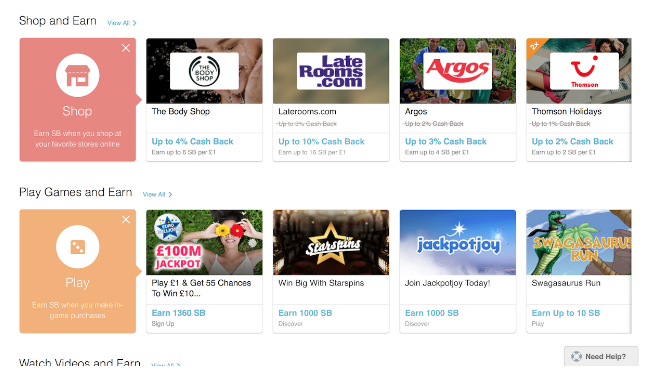 What's more, Swagbucks also allows you to earn cash back from things you buy regularly - so when you shop online at stores like Amazon, Walmart, and Old Navy, you can earn cash back from your purchases. This is great for people who regularly shop online, but who want to save some money here-and-there.
Points earned on Swagbucks can be used to claim gift cards from tons of major retailers like Amazon and iTunes, and can be used to earn direct bank deposits and PayPal credit.
Who does Swagbucks suit best?
Swagbucks works best for people looking to earn cash back from things they already do, like shopping online and searching the web, or who want to have the chance to earn rewards and gift cards by playing short games or watching videos.
PrizeRebel and Swagbucks: which one's for you?
It's clear that PrizeRebel and Swagbucks are both really great sites that offer plenty of rewards, surveys, tasks, and videos, and can help you earn a bit of extra cash each month that you can put towards the things that matter to you - but each of these sites is slightly different, and suits different people.
PrizeRebel is really great for those who want to make better use of their spare time and put their thoughts and opinions to great use.
Whereas Swagbucks is perfect for people who already shop online a lot, and want to earn a little bit of cash back on each of their purchases.
If you're serious about making more money each month by earning cash back from the things you already do, and better spending your free time each day, signing up to both sites can offer the best all round experience.
You've found the best choice to earn free rewards with.