Which One Should You Choose: PrizeRebel or InstaGC?
Posted on June 25, 2016 by PrizeRebel
Share this article via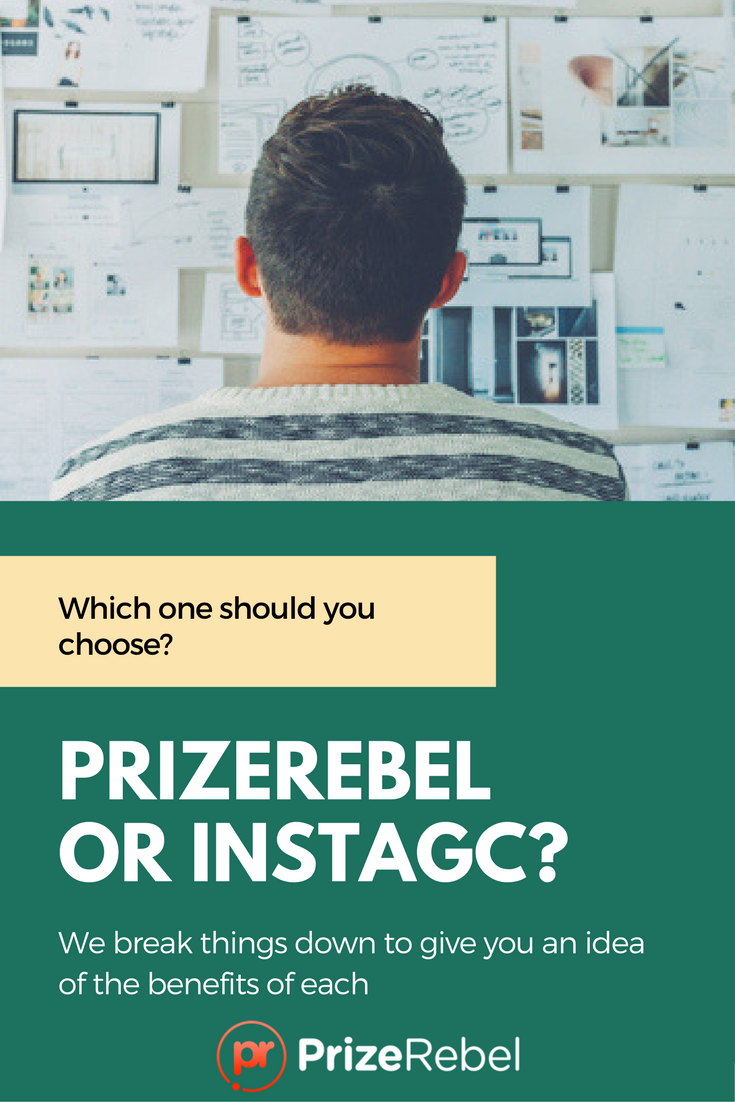 PrizeRebel or InstaGC: Which One Should You Choose?
Not sure where to start?

Join PrizeRebel today

to start redeeming for prizes!
PrizeRebel and InstaGC are two leading survey sites that offer you the chance to earn gift cards in exchange for completing surveys and tasks - but which one should you choose to spend your time on?
There are lots of websites that offer you the chance to turn your spare time into money-making opportunities by allowing you to take surveys to earn gift cards and cash. But if you're looking to make the most of your spare minutes, the huge number of websites offering the same services can make things confusing.
Having hundreds of sites offering similar things can mean that you end up signing up for a service that doesn't offer you the best rewards, doesn't give you a wide choice of ways to earn rewards, or only leaves you with the option of earning gift cards rather than actual cash.
PrizeRebel and InstaGC are two sites that both offer you the chance to complete tasks and surveys to earn gift cards or cash that you can use to help save money on things you buy regularly - but which site offers you the best experience, and which is the one you should spend your time on?
We break things down to give you an idea of the benefits of each -
PrizeRebel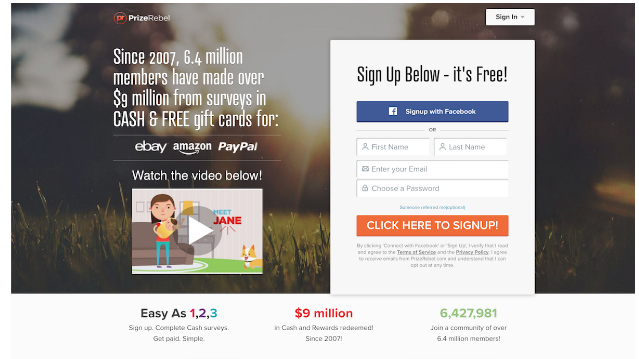 PrizeRebel is the internet's leading survey site, with over 6.4 million users joining the service since it launched in 2007. The site has also paid out over $9 million in rewards and prizes.
PrizeRebel works by allowing you to turn your spare time into cash or gift cards by letting you use your opinions to complete surveys and your time to watch videos. Each completed survey and watched video awards you a certain number of points that you can then use to purchase cash rewards or gift cards to use at your favorite stores.
PrizeRebel offers you the chance to earn everything from a $2 Amazon gift card to $500 in PayPal credit.
The site also has an incredibly low minimum withdrawal amount of $5 - other competitor sites require you to have $10 or even $50 in your account before you are able to make a withdrawal. This means that you can make withdrawals every day, or that you can use the site to earn small amounts of money here-and-there.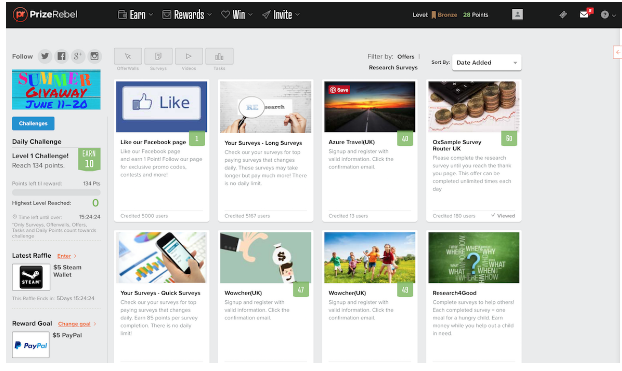 Being able to earn both cash rewards and gift cards, to earn points by watching videos and completing surveys, and being able to withdraw small amounts as often as you would like means that PrizeRebel offers huge amounts of flexibility that can suit whatever your needs are.
Because of the flexibility it offers, PrizeRebel is perfect for people looking to use their time in a more productive way (think of those hours you spend scrolling Facebook in the evenings), people looking to make more money outside of work in areas where there aren't a lot of job opportunities, or people looking to earn money from home.
PrizeRebel also has an industry-leading customer support team that works across their website and social media. They are able to answer questions that you might have about PrizeRebel or your account 7-days a week, and they always reply within 1 or 2 days.
Their social media team also regularly gives out offer codes and holds contests to help you get the most out of PrizeRebel. This is unusual, as many competitors have poor social media accounts that don't offer any value.
Sign up for PrizeRebel now, and start earning points that you can turn into cash and gift cards
InstaGC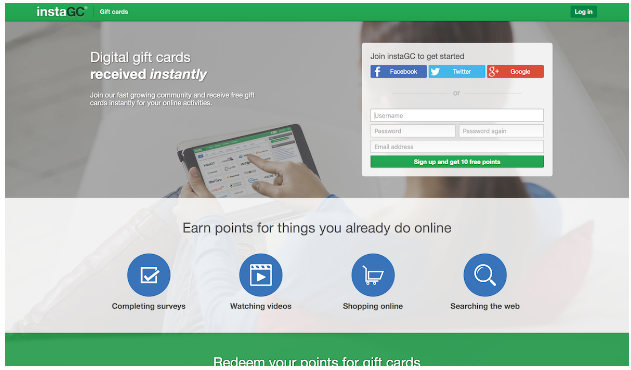 InstaGC is a small site that offers you the ability to complete surveys, watch videos, shop online, or browse the web to earn points that can be turned into gift cards or cash withdrawals.
What about comparing InstaGC and Prizerebel? The website is much smaller than PrizeRebel, and has only been around since 2011, but it does offer a wide range gift cards to choose from that can be used to save money at places like Adidas and Netflix.
InstaGC does work like PrizeRebel in that you can earn gift cards and payouts by direct deposit, echeck, and PayPal - but InstaGC charges a fee on every withdrawal after your first each month (usually between 15-25 points), and it takes up to 7 business days before the amounts are credited to your account. Compare this with PrizeRebel, who offers 24hr depositing on all withdrawals after your first and this seems like a bit of a poor deal.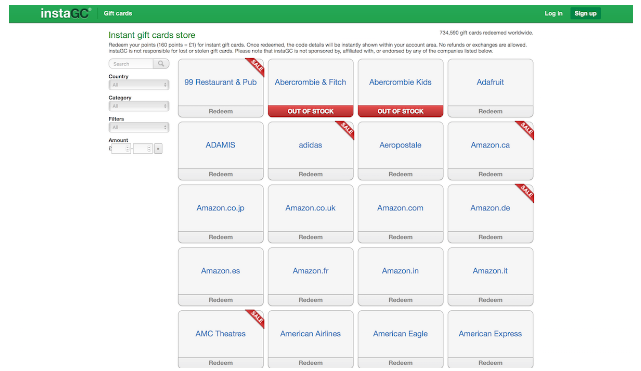 Having to wait long for your withdrawals to arrive in your account means that InstaGC isn't a great choice if you need to earn money quickly.
That said, InstaGC does offer you a wide range of ways to earn points - you can watch videos, answer surveys, or use its search engine to browse the internet. Like PrizeRebel, these activities reward you with a different number of points each time.
Even though InstaGC doesn't offer the same flexibility that PrizeRebel does, it is still an option worth looking into if you don't need to make regular withdrawals.
Which Site Should You Choose?
When it comes to choosing between PrizeRebel and InstaGC, the choice seems quite clear - PrizeRebel offers the best of both worlds by allowing you to choose between earning points for cash rewards or for gift cards, and offering you the ability to make regular withdrawals (with ultra-low minimum withdrawal amounts) so that you can use the site however you need to. What's more, PrizeRebel's size means that there are simply more surveys and tasks on offer: so you have always have the opportunity to earn large numbers of points.
Did you figure out which one you like more? Jump right in and sign up for PrizeRebel today!