Which One Should You Use: PrizeRebel or My Survey?
Posted on August 25, 2016 by PrizeRebel
Share this article via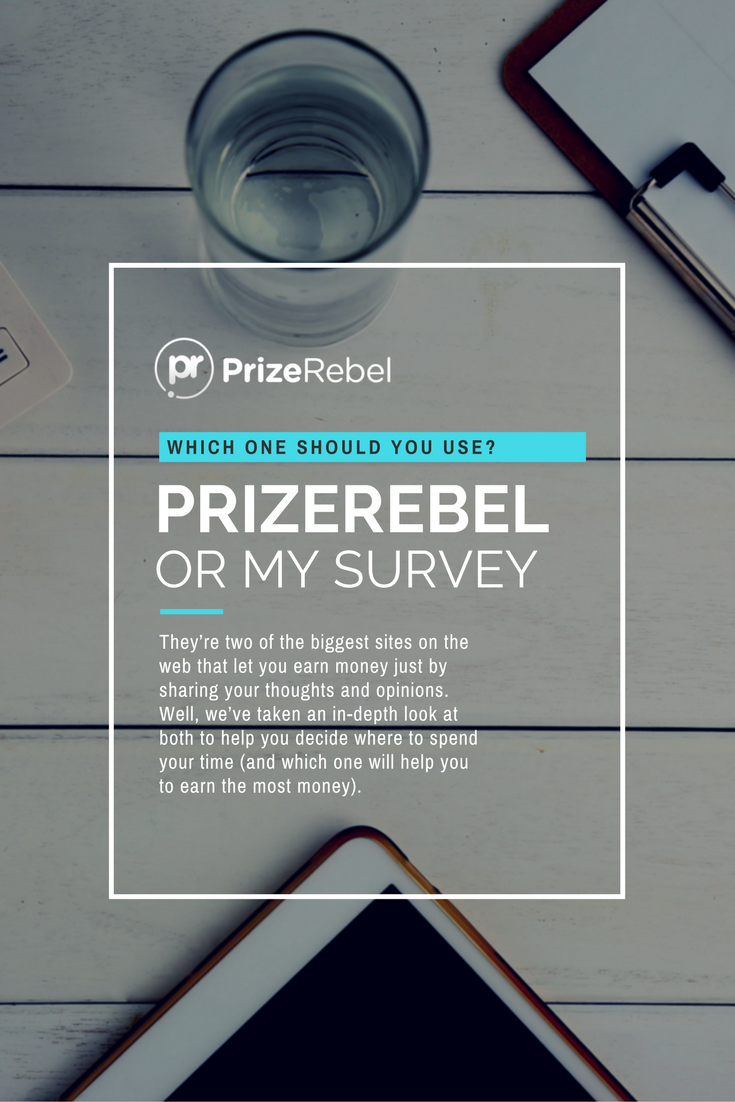 PrizeRebel or My Survey: Which One Should You Use?
If you've been on the internet long enough, there's a good chance you've come across either PrizeRebel or My Survey. They're two of the biggest sites on the web that let you earn money just by sharing your thoughts and opinions.
Each site is used by millions of people across the world to earn a bit of extra cash here and there to put towards bills or treats.
But if you've come across these two sites, you're probably wondering what the difference between them is, right?
Well, we've taken an in-depth look at both to help you decide where to spend your time (and which one will help you to earn the most money).
If you've made up your mind already, you can start with Prizerebel here.
Take a look -
PrizeRebel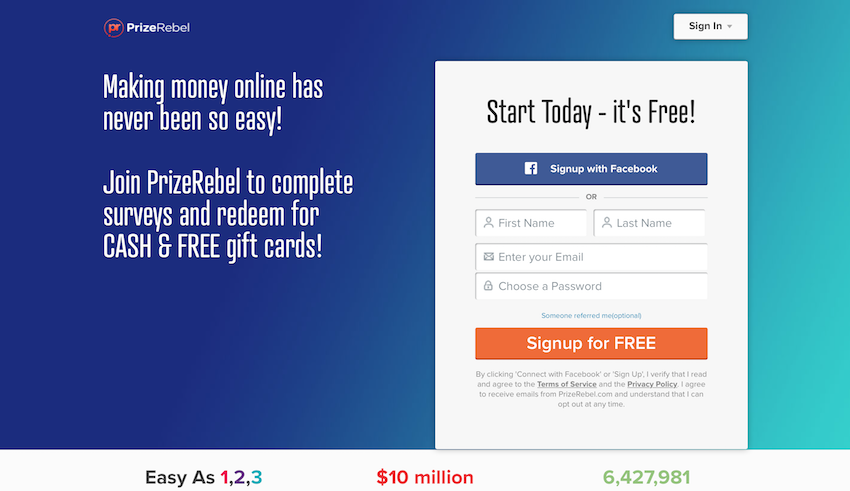 PrizeRebel is the leading survey site on the internet with a huge 6.4 million members that has given out over $10,000,000 in prizes since 2007.
The site has helped millions of people from all over the world turn their spare time into cash, and earn extra money and gift cards that they can use to buy the things that matter to them.
PrizeRebel works by allowing you to use your thoughts and opinions to answer surveys. These surveys then reward you with a certain number of points that you can use to redeem prizes.
Prizes range from everything from a $2 BestBuy gift voucher to a huge $500 in PayPal credit, so there's something for everyone.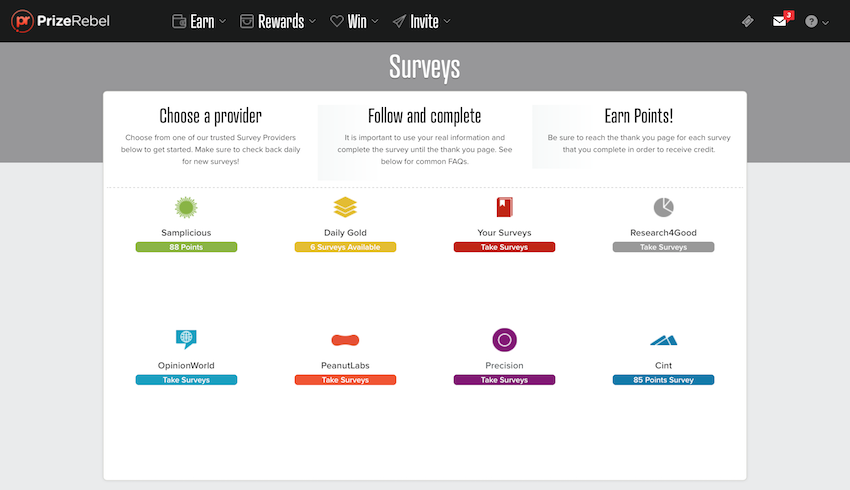 The surveys offered are from several different providers, which means that there's always a survey for you to complete. Other survey sites only work with one provider, and this means there aren't always surveys available.
As well as letting you earn money by answering surveys, PrizeRebel also allows you to complete tasks, watch videos, and enter competitions to earn points.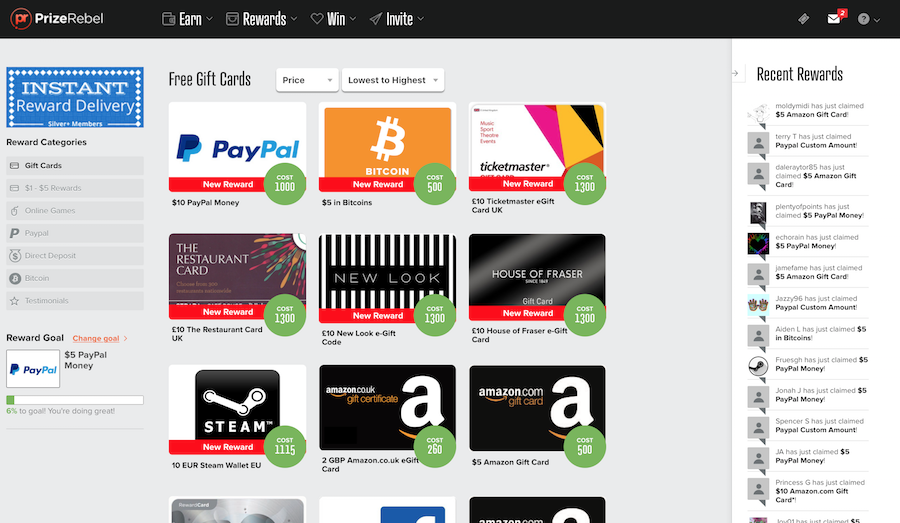 Where PrizeRebel really shines is in crediting for prizes. The surveys, offers, videos, and tasks available give you more points than on other websites. This means you can earn more money faster. Typically you can earn between 10-80 points for each survey you complete on My Survey, whereas you can earn between 60-900 points per survey on PrizeRebel.
What's more, most PrizeRebel users earn their first prize within 3 days of signing up! On other sites, this isn't possible as the time it takes to earn and process the reward is much longer. PrizeRebel surveys also credit points within a few hours - other sites like My Survey can take much longer.
PrizeRebel is available across the world, and has been used by millions of people in 183 countries to put their spare time to good use.
Sign up to PrizeRebel now to start earning.
My Survey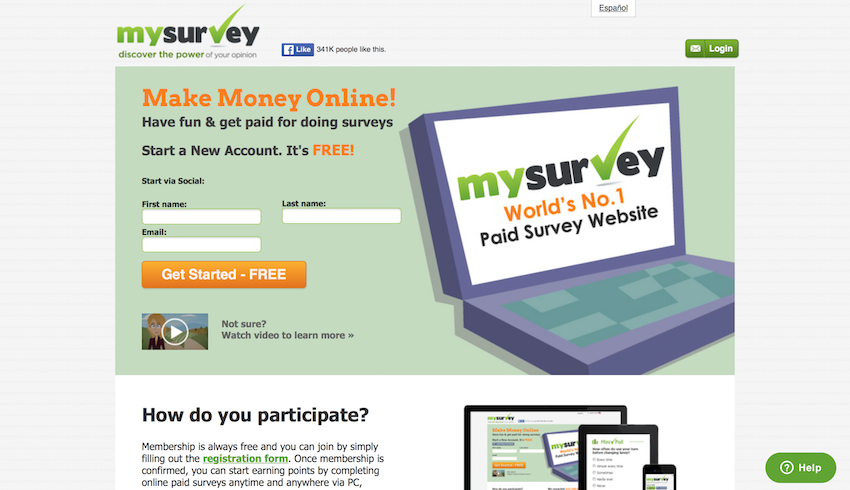 My Survey is one of the oldest survey sites on the internet, with millions of users. The site pays out a huge amount in prizes each year, and helps members from across the world earn a bit of extra money here and there.
Like PrizeRebel, My Survey gives you the chance to earn money by using your opinions to answer questions and surveys.
These surveys then give you points, that you can use to redeem prizes.
Unlike PrizeRebel, which credits rewards instantly to Silver+ members, My Survey can take up to 8 weeks to credit prizes. This means My Survey is a bad alternative if you need your prizes right away.
My Survey also requires you to earn $10 minimum before you can check out and receive your prizes. This is 2x as high as PrizeRebel, which only requires you to earn $5.
Even though My Survey has been around for a long time, it seems that they still have room for improvement. Members of the site have complained on forums and blogs that it takes a very long time to reach the minimum $10 required to check out. People have also complained of only being able to complete 1-2 surveys per month due to lack of availability.
PrizeRebel doesn't have these problems, and it also gives you access to your prizes right away, so it's a great choice for people looking for regular rewards and a range of ways to earn points.
So Which Site is the Best?
From the feedback given by members of both sites and the benefits listed, PrizeRebel is the best site for people looking to complete surveys regularly and get their prizes quickly.
Join PrizeRebel now and start earning points and prizes.